The War On Cash – The Satanic Globalists' Worldwide Agenda Of More Control?
By Jack Allen
If you are paying attention you will notice that cash is being eliminated globally. There is a war on cash for sure and every transaction will have to be done digitally in the real near future. Whether you're religious or not a cashless society has been mentioned in bible prophecy and is linked to the Mark Of The Beast, 666 stuff.
Mark Of The Beast Needed For Buying and Selling?
"He also forced everyone, small and great, rich and poor, free and slave, to receive a mark on his right hand or on his forehead so that no one could buy or sell unless he had the mark, which is the name of the beast or the number of his name. This calls for wisdom. If anyone has insight, let him calculate the number of the beast, for it is man's number. His number is 666" (Rev. 13:16-18).
The bottom line is that a cashless society leads to more control of you by control freak governments and the evil freaks that control these governments presently. If you become an enemy of the One World Government you can be simply turned off in the cashless society system. There is systems now in cars that if you fall behind on your payments your car can be shut off until you get caught up on the payments. Obviously in the future the same thing could happen to you personally. If you fall behind on your taxes or your Obamacare payments you can be financially or physically shut down until you get caught up or taken into custody. I mean we are already debt slaves but with a cashless society we are talking about absolute slavery.
We should do everything in our power to stop these control freaks from imprisoning us in their evil system. Look beyond your political party and affiliations. Look beyond your party candidates to see who really controls them, before you blindly support them. Stopping Globalist Puppet Politicians is a start to halting a One World Cashless Society Hellish Nightmare.

Video: WARNING~THE MARK OF THE BEAST WILL BE MANDATORY BY 2017
The War on Cash: A Country by Country Guide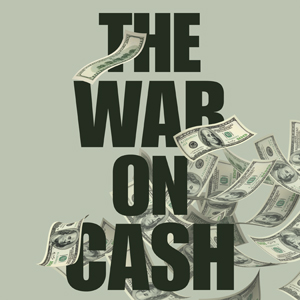 by James Corbett
corbettreport.com
Corbett Reporteers will be no stranger to the war on cash. I've made videos discussing it, conducted interviews about it, written articles examining it and dissected it on the radio.
The war has been waged through mainstream propaganda outlets, TV advertisements and even children's games.
We've heard cash is dirtied by drug dealing, tarnished by terrorism, tainted by tax evasion (heaven forbid!) and just plain dirty. Not to mention sooooo outdated.

Just this week Norway has jumped aboard the cashless society agenda with DNB, the country's largest bank, calling for a total end to cash. The story only sounds shocking because people haven't heard the similar stories from Sweden or Denmark or Indiaor Israel or any of the dozens of other countries whose banksters and (bankster-controlled) governments have openly lusted after a world of completely trackable, completely bank-controlled transactions.
But all of these stories, reported piecemeal here and there over the years, doesn't give the full story about how this "war on cash" is being waged on every continent and in every country by the same banksters that stand to benefit from a cashless world. Let's fix that by compiling a list of examples from around the world of how cash payments are being regulated, restricted and phased out. The list below will be updated as new stories come in.
If you have a link to relevant news from your own country or know of such news from another country, please let us know. Corbett Report members are invited to contribute to the list by logging in and leaving links to the relevant info in the comments below.
The Cashless Society List
AUSTRALIA – Late last year the Westpac banking group issued a "Cash Free Report" touting the highly self-serving finding that "Over half (53 per cent) of payments currently made in Australia are cashless" (using Westpac online banking services like their cardless ATMs, no doubt). The report goes on to predict that Australia will be cash free by 2022. Meanwhile, the government is readying a cashless welfare system that will allow the government to control what the money is spent on. What could possibly go wrong?
CANADA – In 2007 the Canadian government stopped allowing payment of taxes in cash at government service centers. In 2010 Passport Canada followed suit. In 2011 56% of Canadians polled said they were happy to live in a bankster-controlled cashless society so the country killed the penny in 2012 and the Royal Canadian Mint started pimping the "MintChip" as a new form of electronic payment that will be "better than cash." The Mint ended the program in 2014 but the Great White North is still on track to be a cashless society in the coming years.
CHINA – The People's Bank of China, citing the need to "reduce costs, curb crimes and money laundry, facilitate transactions and boost central bank's control on money supply and circulation" set up a research team in 2014 "to study application scenarios for digital currency and strive for an early rollout."
DENMARK – In the 1990s about 80% of Danish retail purchases were made with cash, but these days it's more like 25%. But if the Danish government has its way, that number will be 0% by 2030. That's the year the Danish government has set for the complete elimination of paper money in Denmark.
FRANCE – In the wake of the Charlie Hebdo attacks last year, the French government stepped up its war on cash. In March of last year, French Finance Minister Michel Sapin declared it necessary to "fight against the use of cash and anonymity in the French economy" in order to combat "low-cost terrorism." As of September 2015 it is illegal for French citizens to make purchases exceeding 1000 euros in cash.
INDIA – India is one of the most cash-dependent economies in the world with a cash-to-GDP ratio of 12%, almost four times that of fellow BRICS nations Brazil and South Africa.  But it won't be for long if the Indian government has its way. Last June the Indian Ministry of Finance posted a draft proposal to its website for facilitating the rise of cashless payments in the country. In his 2015 budget speech the Finance Minister declared: "One way to curb the flow of black money is to discourage transactions in cash. Now that a majority of Indians has or can have, a RUPAY debit card. I therefore, proposes to introduce soon several measure that will incentivize credit or debit card transactions and disincentivize cash transaction."
ISRAEL – In 2014 a special committee headed by Israeli Prime Minister Benjamin Netanyahu's Chief of Staff Harel Locker released a report examining how to reduce the use of cash in the country. The report advocates reforms (including restrictions and limits on cash transactions) as part of a strategy whose aim is "reduced use of cash, reduced use of endorsed checks, and increased use of electronic means of payment."
ITALY – In 2011 newly appointed Italian Prime Minister Mario Monti made cash payments over 1000 euro illegal. "What we need is a revolution in Italians' thinking" Monti told reporters as he announced the emergency decree which was put into law before it was even formally voted on in parliament.
MEXICO – In 2013 the Mexican government banned cash payments of more than 500,000 pesos for real estate and more than 200,000 pesos for cars, jewelry or lottery tickets.
NORWAY – Late last week Trond Bentestuen, a senior executive at Norway's largest bank, complained to the VG Newspaper that the Norwegian central bank "can only account for 40 percent" of the Norwegian kroner in circulation, meaning "that 60 percent of money usage is outside of any control." There's only one conclusion, according to Bentestuen: "There are so many dangers and disadvantages associated with cash, we have concluded that it should be phased out." Don't worry, though, the nation's Finance Ministry says it has "no plans to change the law in this area"…for now.
PHILIPPINES – In the Phillippines, the government has launched an "E-Peso" project with the explicit aim of "transforming communities into cashless societies." Touted as "a digital/virtual currency based on the Philippine Peso" its main selling point (according to the E-Peso's own website) is that: "Since E-Peso transactions are completely digital, everything will automatically be recorded onto the customer's account activity log." The initiative is funded by infamous CIA front USAID, which "has awarded a US$25-million, five-year project to a company called Chemonics to support the Philippine government in the promotion and adoption of e-payments in the Philippines."
SPAIN – Citing budgetary austerity and the need to clamp down on tax fraud the Spanish government banned cash payments of more than 2,500 euros in 2012.
SWEDEN – Last year Stockholm's KTH Royal Institute of Technology released a report stating that the country is on track to completely eliminating cash transactions in the foreseeable future. Noting that there are now only 80 billion Swedish crowns in circulation in the economy (down from 106 just six years ago), the report highlights how digital person-to-person payment technology "Swish" (developed in collaboration with Danish banks) is already transforming the country's banking sector, where there are now entire banks that do not accept cash. Meanwhile, the Swedish public is being urged to stop using cash by no less a cultural icon than ABBA's Björn Ulveaus, who brags that the ABBA museum is now a cashless institution.
URUGUAY – Under the "Financial Inclusion Law" which took effect in May 2015 the Uruguayan government has banned all cash payments over $5,000, thus requiring all property and vehicle purchases to go through the banking system. This is part of a wave of such legislation throughout Latin America hailed as a way of "giving the people what they need" (i.e. access to banking) even when (as the very same report notes) "those on the edges of the financial system are distrustful of banks" especially in Uruguay.
UK – In 2014 cashless payments surpassed cash payments for the first time in the UK, with research (from cashless payment provider Kalixo Pro) suggesting that the average Brit only carries £17.79 in cash at any time and 1 in 4 will walk away from if a business doesn't accept card payment. London buses went cashless in 2014.